EXPERT JANITORIAL AND ENGINEERING SOLUTIONS FOR YOUR COMMERCIAL FACILITY
We offer a full range of commercial janitorial solutions that can meet all your facility's cleaning needs. In order to maintain a clean, healthy, and positive environment, CCS Facility Services continuously invests in the latest cleaning technology, techniques, and training for our janitorial services. Our experience, reliability, and attention to detail benefit every property, and the people we serve.
All your facility engineering needs can be met with our full-service facility maintenance engineers. Our team of highly skilled professionals offers everything from plumbing and electrical to HVAC maintenance to oversight of your entire life safety program. In addition to reducing downtime and costs, our proactive approach to maintenance delivers a safe working environment to protect your building occupants. You can rely on us to keep your facilities in top condition and enjoy the peace of mind that comes with partnering with an efficient and reliable maintenance team.
Serving thousands of clients across multiple industries means CCS Facility Services has the skills, experience, and background to serve all types of commercial facility needs. Learn more about the industries we support.
GOVERNMENT & MUNICIPALITIES
Changing contractors can be hard but CCS Facility Services makes it easy on you. Our dedicated transition team is designed to ease the process for your company through a commitment of time, effort, and resources needed to understand your needs and orchestrate a seamless transition.
Hardwired Quality Assurance
When it's time to work, your CCS team is on-the-job and ready to go. Our supervisors are in the field during all shifts, providing quality assurance and job-specific feedback.
Sustainability at Our Core
CCS Facility Services is a leader in green and sustainable practices within the facility services industry. From responsibly-sourced products to efficient practices to a well-resourced supply chain, we take sustainability into consideration in every project and every job we undertake.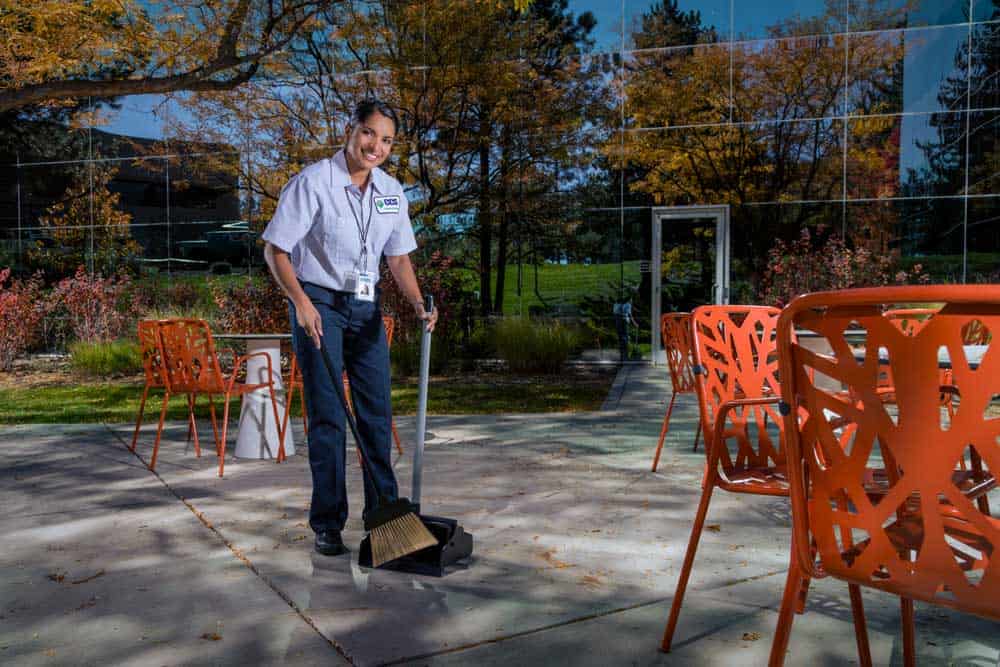 Your investment in building health is important to CCS, which is why CCS is investing in building wellness education and accreditations. From Fitwel to WELL Buildings to CIMS-GB and more, CCS can assist you in achieving your building wellness goals.
Hard floor restoration and carpet care require unique skills, which is why CCS has a dedicated team of carpet and flooring professionals whose combined 250 years of experience can help extend the lifecycle of facility flooring.
A safe workplace is a strong workplace. You have safety and security needs specific to your business. We will learn and adhere to your protocols, which complements our custom-developed, extensive safety and security training. This is a critical part of our new employee onboarding and then messaged through ongoing training and communications.
Infectious Disease Cleaning Expertise
CCS is the first company in the world to earn GBAC STAR™ Service accreditation from the Global Biorisk Advisory Council®, which means we have the skills needed to clean for health to keep building occupants safe — which means confidence for you.
What our clients are saying "CCS provides us with excellent service at a cost effective rate. We have a reliable and responsive account manager who consistently checks in to ensure his team is providing the best service possible."
Denver Customer "I have worked with multiple cleaning vendors in my many years in school operations. In a field where most vendors are between poor to average in their quality of work, CCS is the only cleaning vendor that I would rank as excellent and no one else is close. They get the job done and they do it well."
Las Vegas Customer "I've worked here in biotechnology for 27 years and I have always used CCS to assist me in engineering support around the campus. They have always been a great help no matter what the task, day or night or emergencies. A+ partnership. I highly recommended CCS Facility Services."
Orange County Customer "Our County has worked with CCS and their staff for over 3 years, and they consistently do a great job at our facilities. The team is easy to work with and quick to respond whenever there is an issue. Their employees are professional, thorough, and committed to meeting our janitorial needs."
Fresno Customer "CCS has been a great asset to our team. Their professionalism and quick response is great and they have been able to help me with everything!"
San Diego Area Customer
FIND CCS FACILITY SERVICES NEAR YOU
Get in touch with us to learn more about our services and get a free quote.