FIRST GBAC STAR
SERVICE PROVIDER
IN THE WORLD 
CCS INFECTIOUS DISEASE CLEANING VALIDATED BY THE GLOBAL BIORISK LEADER
CCS Facility Services is the first company in the world to earn GBAC STAR™ Service accreditation from the Global Biorisk Advisory Council® (GBAC), the gold standard in biorisk education and training.
But what does this mean for our customers?
It means that CCS delivers the skills needed to clean for health to keep building occupants safe — which means confidence for you.
Under the guidance of GBAC, a Division of ISSA, the worldwide cleaning industry association, GBAC STAR Service accreditation validates that CCS Facility Services has demonstrated a competency to help customers prepare for, respond to, and recover from infectious agents and biohazards and reinforces our commitment to the health and safety of the occupants of our customers' buildings and validates our processes.
As the cleaning industry's only outbreak prevention, response, and recovery accreditation, GBAC STAR™ helps organizations establish protocols and procedures, offers expert-led training, and assesses a facility's readiness for biorisk situations. The program validates that CCS Facility Services has sustainable and scalable biohazard response infrastructure.
To achieve GBAC STAR Service accreditation, CCS Facility Services demonstrated compliance with the program's 20 core elements, which range from standard operating procedures and facility infectious disease prevention practices to risk assessment and mitigation strategies.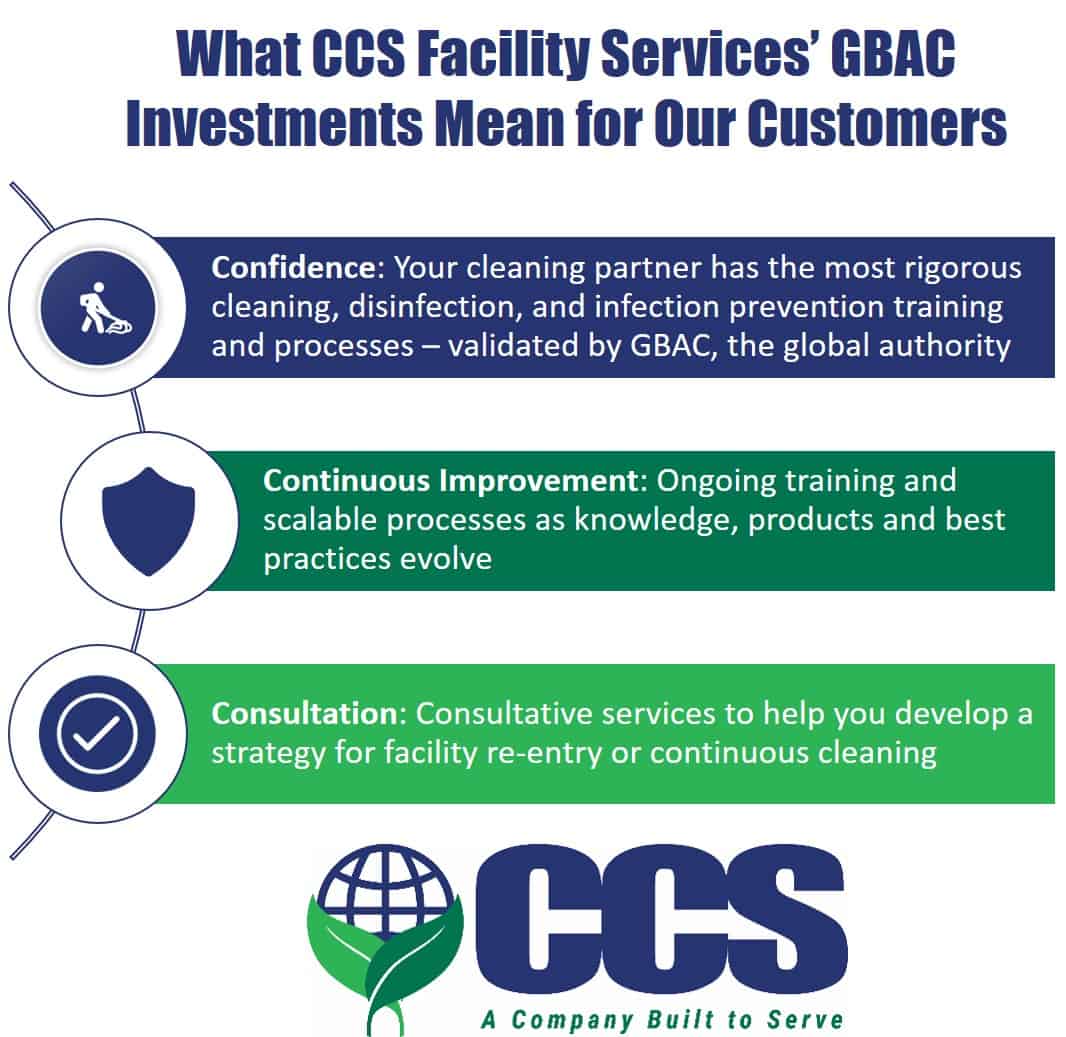 An important part of the GBAC STAR Service accreditation process is extensive training biorisk prevention and response. The GBAC Trained Technician program delivers cutting-edge training for frontline staff and supervisors on proper cleaning and disinfecting for infectious diseases.
CCS Facility Services invested in GBAC's programs to ensure we had the breadth and depth of knowledge to develop – and continue to evolve – strategies for our customers. Whether a facility's occupants are returning to the workspace or were never able to shut down operations, each business has specific needs to keep its people safe. With GBAC STAR Service and GBAC STAR Service, CCS Facility Services has the education and experience to help any business customize a safety strategy.